| | |
| --- | --- |
| Posted by Lisa Celentano on May 21, 2020 at 1:00 PM | |
MONDAY 05/25/20
ALL MEMBERS & GUESTS INVITED!  
PUNCH CARD rate for non-members.
FREE to UNLIMITED members
ONE WORKOUT - 9:15 am
COMPLETELY SCALABLE and 100% HONORARY!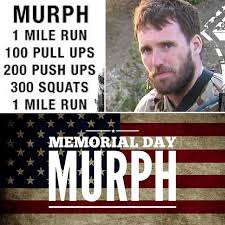 Murph is a popular workout created by CrossFit in memory of Navy Lt. Michael Murphy who died in Afghanistan on June 28, 2005. Known as a Hero WOD (WOD = workout of the day), Murph was first posted on August 18, 2005, and is completed every year on Memorial Day by CrossFitters, Navy SEALs and anyone choosing to honor a hero.

LT Murphy was killed June 28, 2005 after exposing himself to enemy fire and knowingly leaving his position of cover to get a clear signal in order to communicate with his headquarters. He provided his unit's location and requested immediate support for his element and then returned to his position to continue fighting until he died from his wounds.